Rent boats in St. Petersburg
Boat rental with captain
| Boats | Mon-Thu* | Fri-Sun* | Capacity | Discount |
| --- | --- | --- | --- | --- |
| Larson | 7000 | 8000 | 8 | ✓ |
| Triton | 8000 | 9000 | 7 | ✗ |
| Kaban | 9000 | 10000 | 11 | ✗ |
| Regal | 9000 | 10000 | 7 | ✗ |
| Cobalt | 8000 | 9000 | 8 | ✗ |
| Amsterdam | 30000 | 30000 | 11 | ✗ |
Order
* Mon-Thu inclusive
* Fri-Sun inclusive
The company "Breeze" offers to rent a boat in St. Petersburg with the captain directly from the shipowner. The entire fleet is owned by us, so the cost of services will not exceed the average market rental price.
Of course, there are many ways to have a good time. But one of the most unusual and memorable is a boat trip that allows you to feel all the colors of life and provide an unforgettable vacation with family, friends or colleagues.
We will be happy to help you spend your leisure time interesting, beautiful, romantic, fun and get unforgettable joyful impressions from a boat trip.
Feeding is possible for almost any convenient descent.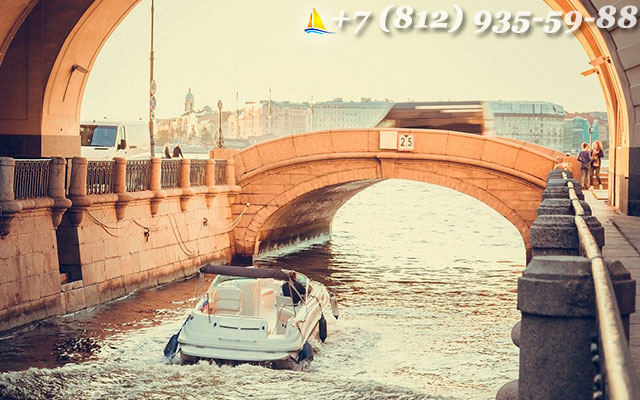 Boat trips along the rivers and canals of St. Petersburg
Pleasure boat rental in St. Petersburg
Rental purposes
Boat trips with the captain from 7000 ₽/hour.
You can rent a boat with a driver for events such as:
River and canal excursions;
Night walks along the Neva River on the bridges;
Location for photo shoots, etc.
The main routes of water walks and excursions
Boat rental in St. Petersburg from the company "Breeze"
If you want to surprise business partners, make an unforgettable gift to your soulmate or arrange a fun vacation with friends, boat rental is what you need! We not only offer our Clients to rent a pleasure boat with a captain, but also provide all related services and high-quality service.